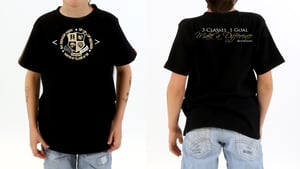 $

11.00
Child Shirt $11.00
Purchase now through Wednesday, September 10th; sizes are available in youth and adult.
We will have the t-shirts available at the football game to pick up on Friday, September 26th, as well as the family event on the 27th at Central Park. If you are not attending either event and would like to pick up your t-shirt Saturday evening, please contact us in advance to pick up your t-shirt at the Hard Rock Hotel and Casino the evening of the 27th.
T-shirt will not be shipped!